FOUR-FIFTHS A LEGEND IS STILL A JAZZ FEST BARGAIN
ABOVE: Fleetwood Mac closes Jazz Fest Saturday with ageless anthem "Don't Stop"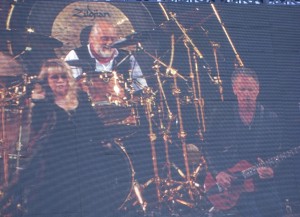 When Fleetwood Mac ended their spirited, age-defying set on the Acura Stage Saturday night with "Don't Stop" it was the only Christine McVie penned tune (not counting collaborations) they performed. Despite the departure of one of their three singer/songwriters they couldn't avoid granting a rabid crowd the chance to sing along with their most anthemic and enduring tune. McVie's departure, pairing them down to a quartet, is far from the first turmoil in this band's history. Fleetwood Mac is legendary for having turned their intermarriage and subsequent internal divorces into pop immortality, particularly on Rumors which remains one of the top-selling albums of all times. So enduring is its power that well over a hundred thousand fans showed up to celebrate the timelessness of these talented musicians four decades after they reshaped the boundaries of confessional folk-pop songwriting.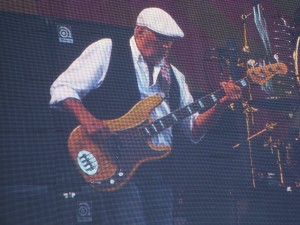 Fortunately we'd arrived early and pushed right up to the barricade that separates the 'rich pit' up front from the middle class cluster that stretches back to the horizon. Let's face it, there's no place at the table for poor folks in today's over-priced concert landscape, although Jazz Fest is as close to a bargain as you'll find at $50 a day. Ticket sales for major arena acts are rigged these days so that the gaudily priced tickets up close go to scalpers who quadruple the cost online. Thus, to get this close in an arena would have cost us upwards of $500 but for fifty bucks we were within twenty-five yards of legends. Thus is the magic of Jazz Fest. Some people complain that the acts have gotten too big, but all the local acts and mid-range stars continue to be featured, only to increased exposure thanks to the international crowds drawn by the superstars. Fleetwood Mac packed in perhaps the largest crowd of the festival. A rising tide lifts all ships–and buoyed our spirits as we celebrated so close to legends who still had a lot to say.
THE REVIVALISTS: MOVING FORWARD DESPITE THEIR NAME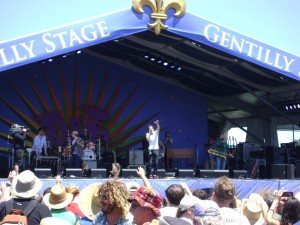 I wrote about warming to The Revivalists at a recent Wednesdays in the Square performance although not being blown away. Still, my friend and I started off this Saturday with them at the Gentilly Stage. They seemed more energized by the Jazz Fest crowd–as every band is–and their sound continued to grow on me. My friend was all in from the start.
ABOVE: The Revivalists, "You're The Reason Why"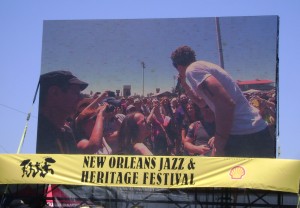 The Revivalists were voted 'Best Rock Band' of 2102 by Offbeat and, though I doubt they'll surpass Honey Island Swamp Band or perhaps even Johnny Sketch & The Dirty Notes on my list of up-and-coming bayou rock bands, I will catch their high energy shows any time I can. Their name makes them sound like a group of old school retro cats but this youth group displays shades of Kings of Leon and Citizen Cope more than The Neville Brothers or Dr. John, but with the skilled musicianship you'd expect from those latter legends. Their lead singer, a deft showman, climbed into the crowd near the end of his set to engage his fans which had shown up in droves despite the early slot.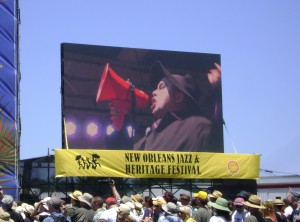 Unfortunately the moment these popular local rockers exited so did the crowd. It was a scheduling snafu putting The Revivalists lower in the lineup than The New Orleans BINGO Show which has a much smaller, if loyal, fan base. This multi-media psychedelic burlesque show features retro-dancers bending and twisting frantically, dissonant singing by a manic carnival barker, and painted clowns shouting through a mega-phone. I'm all about self-expression and wish them well, but my friend and I decided to grab a bite to eat after the third number.
COWBOY MOUTH IS CUT OFF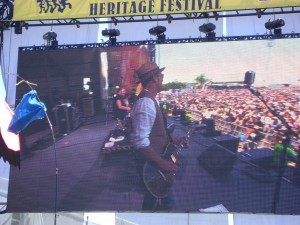 I've seen Cowboy Mouth approaching twenty times and written a novella about them on this blog so won't go into details about their show, but rather point out that this was just my second chance to catch them at Jazz Fest where everyone plays their best. On Sunday I wrote about how Dave Matthews fans spoiled my first chance. Then today we were halfway across the fairgrounds when their set started ten minutes early. I raced to squeeze into the crowd, missing the first two songs, and was annoyed that the set ended 35 minutes early, a net loss of 25 minutes. Fleetwood Mac later started a half hour before their 5:15 scheduled start time and if such a legendary act wants to give more than expected, you don't question it. Still, it's a shame that this local gem was the one who got shafted, especially considering it was such a big day for them.
Halfway through the set Fred LeBlanc announced that just yesterday they had signed a contract with a major label. Their latest album, This Train, would be re-released nationally and the song "I Believe" released as a single. It was a big moment to share with the hometown crowd and I was a little annoyed when they were brushed unceremoniously from the stage. Fortunately Fleetwood Mac made excellent use of the extra time, but I would have rather seen the difference at least split with Little Big Town who lacks local ties (and CM's originality).
ABOVE: Cowboy Mouth closes with a rousing rendition of favorite "Jenny Says"
LITTLE BIG TOWN: COUNTRY SUBURB MUSIC SUPERSTARS
Damn, Little Big Town is a good looking group–and very photogenic. The voices of the four lead vocalists are not only perfectly harmonically balanced but with both a blonde and brunette male and female, they're visually balanced as well. As for the women, one is beautiful and the other is Helen of Troy. My companion told me the guys weren't bad either. They are skilled musicans, skilled songwriters, and excellent vocalists. But, to me, something seemed missing.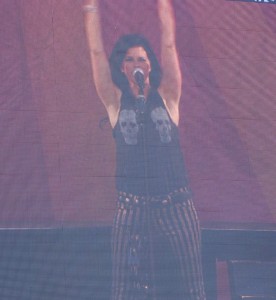 One thing that annoys me to no end is when folks mistake differing tastes for lack of talent. Just because somone doesn't stroke your goat doesn't mean they 'suck.' Thus, I can see where this band appeals to a lot of people, including my friend. Yet I had trouble later convincing her I wasn't being snarky when I said they weren't 'Country Music' but rather 'Suburb Music.' Yes I mean that and no not (entirely) snottily, but as a reflection of where we are as a society. I firmly believe 'country music' has become today's popular music because it is not 'of' the country but the suburbs where most of us dwell. While the lyrics are filled with a down-home nostaglia for simple, country living it's exactly that–nostalgia, not truth. Little Big Town sings of 'motor-boating' and the 'boondocks' but these experiences are dabbled in as diversions from our middle class lives rather than immersion in clean, country living.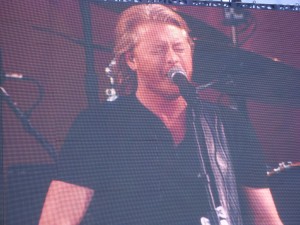 Most people who listen to today's country music are caught in between working class and corporate existences. They identify blue color while the demands of their labor are more in the mental/service-oriented white color realm and, with stagnant wages, both their careers and social mobility are caught in limbo. Being neither country or pop makes this music a reflection of this limbo. It's performed with the slickness of modern life by beautiful people like we see on TV yet lyrically imbued with yearning for simpler (i.e. rougher) days.
ABOVE: Little Big Town does a country cover of Lady Gaga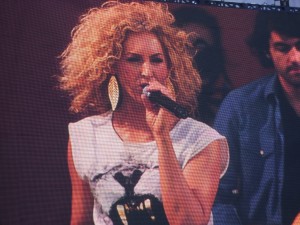 Most endearing about their performance was how excited they seemed to be at playing Jazz Fest–claiming to check it off their bucket list–and how thrilled they were opening for Fleetwood Mac. The most fun part of their set was doing country mash-ups of current hits, yet, since I really don't care for modern corporate radio, the joke was lost on me when they played a Lady Gaga song–I didn't recognize it! Nevertheless, it was a professional and polished performance for an eager crowd. I just wasn't their target audience. Much like modern country fans choose to embrace the illusion that they're not suburban white-collar, I choose to embrace the illusion that I'm not mainstream!!!
FEST FOOD: CRAWFISH ENCHILADAS & DOUBLE SECOND HELPINGS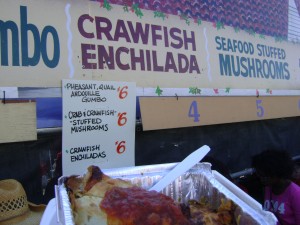 I have been trying as many different foods as possible this Fest for blogging's sake, but couldn't resist sharing another trio of Crawfish Sack, Oyster Pattie, and Crawfish Beignets with my friend, a top contender for Best of Fest. That was pre-Mouth, though, so having heard enough Little Big Town, I pushed through the insane crowed for sustenance and a forty-five minute toilet wait. I quickly found I couldn't resist a second Cochon De Lait Po-Boy, as well–another top contender–but did go for novelty with the Crawfish Enchilada. Based on long lines and its presence on the fairgrounds this was a burgeoning favorite. The corn tortilla was soft, the sauce rich, and the cheesy goodness inside bursting with fresh crawfish flavor. It didn't shoot to the top of my list, but it was a strong contender. What can I say? I'm a sucker for spicy cheese mixed with crawfish!
FLEETWOOD MAC: MASTER MUSICIANS WITH THE SLIGHTEST OF SLIPS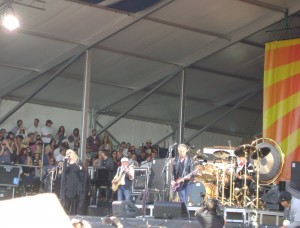 From the moment Fleetwood Mac opened with "Second-Hand News" it was clear they were here to play and not rest on past success, even debuting two new songs. The band was down a voice, with Christine McVie retiring after The Dance album and tour, and the remaining voices showed some age, but their musicianship remains impeccable. Mick Fleetwood tore through his impressive drum kit like an energetic teen, John McVie kept an unrelenting beat on bass, and Lindsey Buckingham put on a pyrotechnic display reminding this multi-generational crowd why his name used to come up in most conversations involving guitar gods. In fact, despite rolling out a succession of hits which remain some of the most played in rock history, the highlight of the show may have been Buckingham's manic, passionate solo on deep track "I'm So Afraid." He looked like he was having a blast and took a moment after to catch his breath, blowing on his fingers as if impressed even with himself.
ABOVE: Fleetwood Mac opens an excellent show with Rumours classic "Second-Hand News"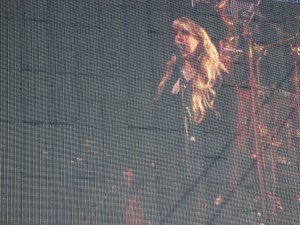 Buckingham also did admirably on the mic. His voice may have lost a step, but only a stutter step. Stevie Nicks, though, seemed to struggle at times and was unable to hit high notes. Fans around me were engaged in a running commentary, sending psychic encouragement (right up Nick's alley) and cheering as she hit her stride on "Landslide." At one point a bug flew in her throat and she joked about it, apologizing to the audience as she went for coffee to wash it down. What she had lost in agility, however, she made up in passion and sincerity. This former couple has fronted this band in five different decades and the Fleetwood-McVie rhythm section has kept the beat in six, yet the band still seemed truly inspired. At one point Buckingham told the audience that this band, remarkably, had chapters left to write and based on their performance he wasn't just paying lip service.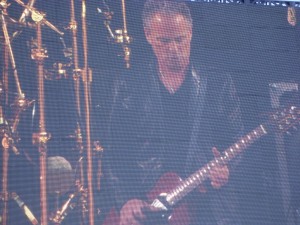 If one thing was missing, it was the sizeable catalogue of hits produced by Christine McVie. Lyrically McVie tends to be simplistic, repetitive and downright infuriating. She doesn't compose melodic poems, but simply makes bland statements, rinses, and repeats. You make loving fun (as opposed to?!) Hold me. Don't stop thinking about tomorrow. You woo me until the sun comes and say that you love me. Tell me lies. Tell me sweet little lies. Tell me lies. Tell me, tell me lies. You get the point. In fact, after railing on John Mayer for "Daughters" earlier, in fairness I have to say that McVie's "Sugar Daddy" drives me nearly as nuts as she declares she wants a sugar daddy to buy her things but that he better not expect any loving because she's saving that for her baby. Hello?! I think the quid pro quo is the very essence of this sexuo-economic relationship. Hell, if it's just some creepy guy who buys you stuff and stays the heck away I'll take a sugar daddy!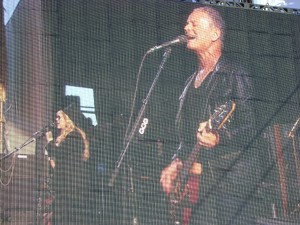 That being said, McVie was strangely missed like that weird cousin who annoys you until she doesn't show up to the family picnic. She is a stellar singer and an excellent melodic composer (if only she'd have let Stevie write the lyrics!) and it didn't feel completely like Fleetwood Mac without a couple of her corny nuggets. Still, the band soldiered on impressively as a quartet. They took the stage a half hour early and left the crowd wanting more. It would be so easy to go through the motions when the world is your Gulf oyster, but I'm glad to report that Fleetwood Mac is still making music. Some people are legends for a reason.